An Arizona man was arrested for allegedly recording a man inside a restroom stall to satisfy his "fetish," according to court documents.
Tempe resident Jonathan Roy Jackson, 23, was apprehended at Scottsdale Fashion Square on Sunday afternoon.
In court documents obtained by FOX 10 Phoenix, authorities said Jackson used a cellphone to surreptitiously record a victim in the mall's bathroom.
"When [the victim] was in the bathroom stall, he noticed a clear bag (with a black object pointed in his direction) on the floor at the base of the stall door next to black crocks [sic] with a colorful design for about 2 minutes," the court documents say.
BEAR THAT FATALLY ATTACKED MAN AT ARIZONA CAMPSITE DIDN'T HAVE RABIES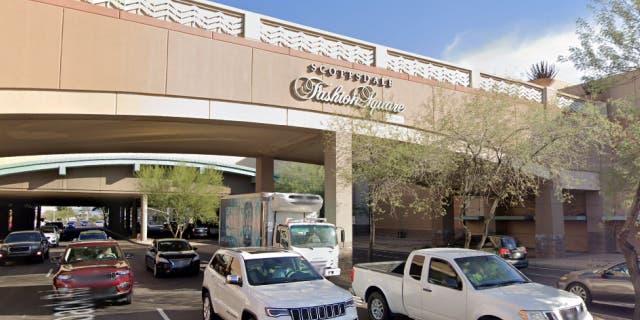 The victim was using a restroom at Scottsdale Fashion Square when he suspected that he was being filmed, according to police. (Google Maps)
The victim reportedly restrained Jackson, who then punched him in his face and left a red mark on the victim's forehead. Police eventually arrived and arrested Jackson.
"During a post-Miranda interview with defendant, [Jackson] stated he has a problem (fetish) and records males while in the bathroom with one of two cell phones he had in the clear bag," the court documents claim.