A meme apparently intended to criticize capitalism resurfaced this week and was met with intense criticism from conservatives, many of whom pointed out that it actually reinforces the benefits of capitalism: abundance, diversity of choice, competition, and prosperity.
The meme, pictured in the Tweet below, reads: "'Capitalism breeds innovation'" then under "Capitalism:" it features 12 different fried chicken sandwiches offered by America's various fast food chains. The chains included Popeyes, Carl's Jr., Zaxby's, Chick-fil-A, Sonic, Church's, KFC, Burger King, Jack, Wendy's McDonald's, and Arby's.
Marc Andreessen, a billionaire entrepreneur tweeted, "The claim here is that capitalism delivers food…"
AOC: CAPITALISM IS NOT A 'REDEEMABLE SYSTEM FOR US'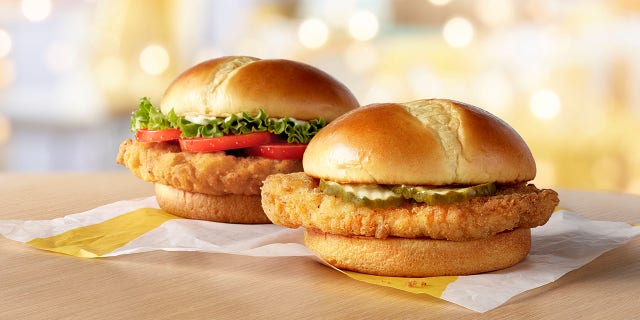 McDonald's chicken sandwiches on display.
Editor in chief of Arc Digital Berny Belvedere tweeted, "Leftists posting capitalism's Ws."
"DELICIOUS FOOD WIDELY AVAILABLE[.] Capitalism blamed," Jim Treacher, a popular conservative writer, tweeted.
"These champagne socialists really show how out of touch they are with asinine memes like these. #Theleftcantmeme," Jacob Airey, a conservative activist, tweeted.
The Libertarian Party of California also weighed in. "Imagine telling anyone who lived under communism how hard your life is because you have 12 chicken sandwich options," they tweeted.
"How many chicken sandwich options did the Ukrainians have during the Holodomor?" Daily Caller editor Grayson Quay queried.
'SOCIALIST' BERNIE SANDERS INCINERATED FOR EMBRACING CAPITALISM AHEAD OF BOOK TOUR: 'FULL OF CRAP'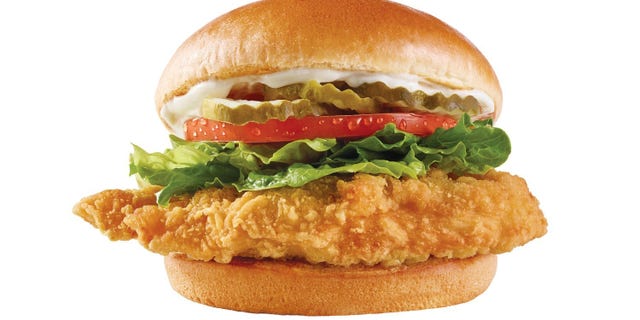 Wendy's Debuts the Classic Chicken Sandwich Packed with a New Premium Fried Chicken Fillet, Pickles, Lettuce, Tomatoes and Mayo, in Between a Premium Toasted Bun. (The Wendy's Company)
Scott Lincicome, an adjunct professor at Duke Law, pointed out that the sandwiches were "dirt cheap" due to the efficiency of free markets. "Ugh capitalism amirite," he joked.
"Cheap, delicious chicken sandwich abundance is probably a close second to Rocky IV on the 'top 5 things to fell communism' list," Lincicome went on. "At one point during the Glorious Chicken Sandwich Wars days, evil capitalist corporations were giving those glorious things away for FREE. Glory, glory hallelujah!"
"Ugh now I want a chicken sandwich. Damn you, capitalism!" he concluded.
Even some progressives chimed in to argue that the meme did not do the left any favors. @Alex, an account with over one hundred thousand followers who displays solidarity with Black Lives Matter in his Twitter bio, tweeted, "Super strong argument in favor of capitalism, tbh."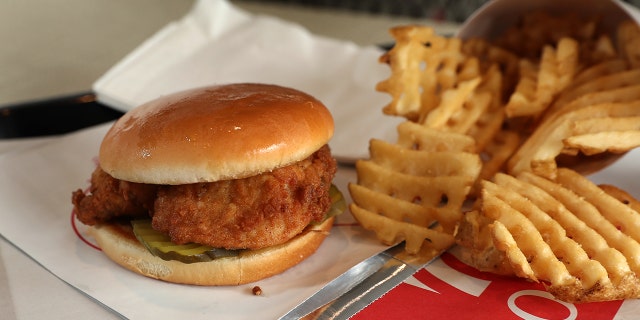 A chicken sandwich with waffle fries is pictured at the Chick-Fil-A restaurant (Photo by David L. Ryan/The Boston Globe via Getty Images)
CLICK HERE TO GET THE FOX NEWS APP
Capitalism has come under repeated attack by politicians on the far Left, many of whom argue it is an oppressive and racist system that must be abolished. Alexandria Ocasio Cortez, for example, recently said in a public statement that capitalism is irredeemable.
Many have been quick to point out what they consider to be the hypocrisy of self-described socialist politicians, however. Bernie Sanders, for example, was slammed last month for charging $95 through Ticketmaster to attend his book tour. Ticketmaster is being investigated by the Department of Justice for anti-competitive practices and Sanders's new book was published by Penguin Random House, one of the big five publishers in the United States.