Anthony Michael Hall, star of "Weird Science" and "Halloween Kills," turned 55 on Friday.
Hall rose to fame as a member of the infamous Brat Pack, a group of young actors who frequently appeared in movies together throughout the 1980s, including "St. Elmo's Fire," "The Breakfast Club," "About Last Night…," "Sixteen Candles" and "Pretty in Pink."
The term was first used in a 1985 New York Magazine article written by David Blum, who came up with it, after spending a night out with Rob Lowe, Judd Nelson and Emilio Estevez. In the article, Bloom compared the Brat Pack to the Rat Pack of the 1960s, calling Estevez the unofficial president, Nelson the overrated one and Lowe the most beautiful face.
While there is some debate over who is considered a member of the Brat Pack, it is widely agreed upon that the core members include Hall, Lowe, Estevez, Nelson, Molly Ringwald, Demi Moore, Andrew McCarthy and Ally Sheedy. A movie is considered to be a Brat Pack movie if two or more of these actors star in them.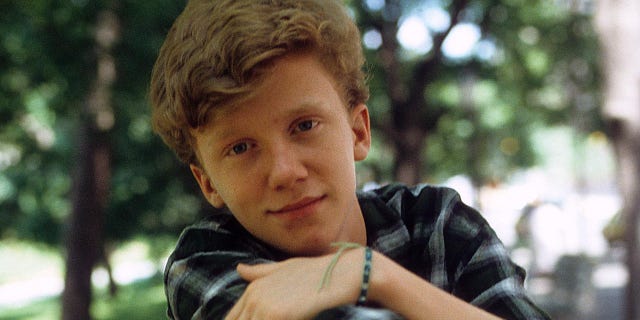 Actor Michael Anthony Hall poses for a portrait in circa 1984. (Michael Ochs Archives/Getty Images)
'BREAKFAST CLUB' STAR ANTHONY MICHAEL HALL REFLECTS ON BRAT PACK FAME: 'I DIDN'T ANTICIPATE ANY OF THAT'
"We have this ongoing legacy that we're connected in some way, even if I don't really know who they've become, we have that moment in time together," McCarthy said on "The Drew Barrymore Show" in 2022. "People talk about now how with social media everything happens so quickly and it gets spread all over the world, but it was one article, it was out for one week, and it stuck."
Like McCarthy, many of the Brat Pack members have spoken out about what it was like to be in the group, which elevated them to a level of stardom that some of them admit they weren't necessarily prepared for. Here's a look at where the Brat Pack members are now and what they've said about the group over the years.
Anthony Michael Hall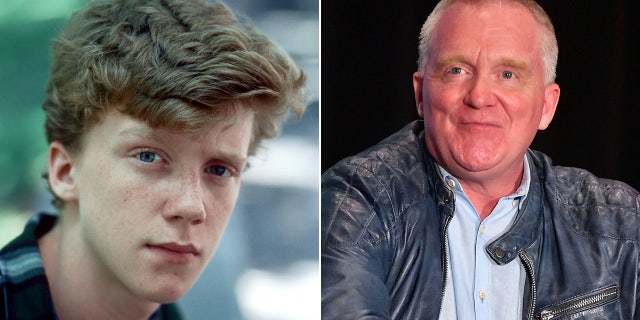 Anthony Michael Hall was not ready for the level of fame being in the Brat Pack brought to him. (Getty Images)
Anthony Michael Hall told Fox News Digital in September 2022 he "didn't anticipate any of" the fame that came with being in the Brat Pack, saying getting famous so quickly at 15 "was challenging" and "certainly took some adjusting."
"The idea of being recognized, it's awkward for adults. But it's magnified at that age when you're already dealing with all kinds of insecurities. It was very challenging," Hall explained. "I would joke, but it's true, that it took me probably 20 years to process being 15, because I had experienced so much in between. I'm certainly grateful for it, and I thank God for having strong, great parents."
Hall guessed that people clung to the Brat Pack myth because "audiences want the actors that they watch together in projects to be actually connected in life" and will come up to him as an adult asking how Nelson and Estevez are doing, even though he hasn't "seen them in 14 years."
"It didn't exist. It was a media ploy. Whoever was the editor of New York Magazine at the time, it was a set-up: 'Let's get all these guys together and get them talking s—,'" Hall told Insider in 2015. "The truth is, in that time frame, I was at the very young end of that group. I was literally still in high school. When we did 'The Breakfast Club,' Emilio and Judd were in their early 20s, and they are going out and having beers, and I was a teen. So, when they did that article, I did feel that was a ploy to get all them yapping."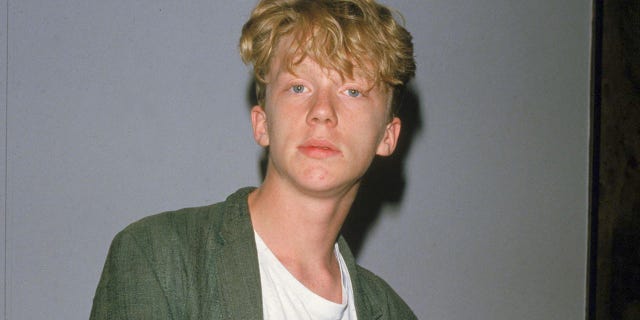 Anthony Michael Hall never expected to reach the level of fame he did at just 15 years old. (Tom Gates/Fotos International/Getty Images)
As a Brat Packer, Hall starred in the wildly successful movies "Sixteen Candles," playing Geek, and "The Breakfast Club," playing Brian Johnson, otherwise known as "The Brain."
Most recently, he appeared in "Halloween Kills" and episodes of "The Goldbergs."
Rob Lowe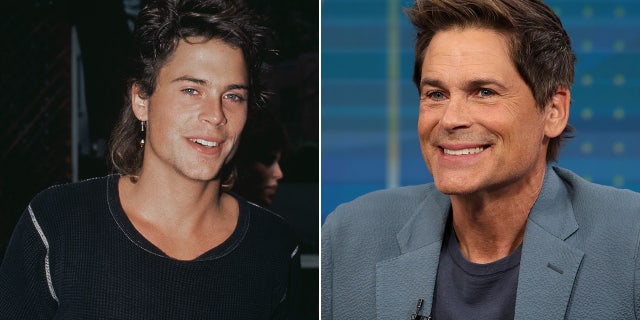 Rob Lowe starred in "The Outsiders" in 1983, the first of a string of Brat Pack movies. (Getty Images)
Rob Lowe starred in his fair share of Brat Pack movies, cementing his place as a '80s superstar. He starred as Sodapop in "The Outsiders," Franklin in "Class," Nick in "Oxford Blues," Billy in "St. Elmo's Fire" and Danny in "About Last Night…"
He further made a name for himself in the 2000s, starring as Sam Seaborn in "The West Wing" from 1999 to 2006. Most recently, Lowe starred in the movie "Dog Gone" on Netflix and appeared alongside his son, John Owen, on the Netflix show "Unstable." Lowe has also been starring as Owen Strand on FOX's "9-1-1: Lone Star" since 2020.
While the Brat Pack label helped make them stars, many of those in the squad, including Lowe, thought it wasn't necessarily always a positive thing.
"It was used in an underhanded, veiled way to say, 'This group of actors are interchangeable, vacuous, long on ambition, short on talent and very entitled,'" Lowe told Independent.ie in 2011. "While that may have been true in doses for some people, it was a bad generalization."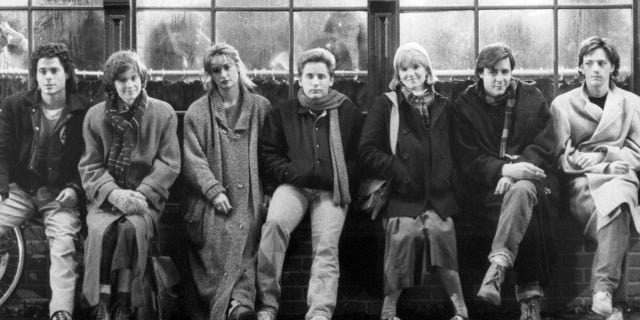 Lowe wrote in his memoir that the camaraderie among the actors on set was real when making "St. Elmo's Fire." (Silver Screen Collection/Getty Images)
Still, in the book "You Couldn't Ignore Me If You Tried," Lowe shared that "the camaraderie was real" on the set of "St. Elmo's Fire" and explained everyone on the cast "truly liked and ended up close while we were filming."
He also explained in the Independent.ie interview why his perspective on the Brat Pack has changed over the years, stating, "Now, there's no stigma left, and I totally embrace it."
 
 

 
 
View this post on Instagram
 

 
 
 

 
 

 
 
 

 
 

"I realized my affection for them. You know, after all of us, everything we've been through, the different chapters in our lives – and I realized we grew up together," Lowe told Entertainment Tonight Canada in 2021.
"These are like the people I went to high school or the people I went to college with, and you reconnect with them in that way. And it was super sweet to have him and Demi on," he added of having Moore and McCarthy on his podcast, "Literally."
Ally Sheedy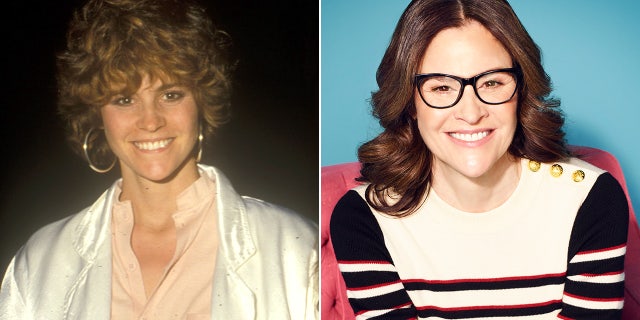 Ally Sheedy starred in a handful of Brat Pack movies, including "The Breakfast Club," "St. Elmo's Fire" and "Oxford Blues." (Getty Images)
Ally Sheedy starred in the most Brat Pack movies over the years with a total of five, alongside Lowe and Molly Ringwald. She played Rona in "Oxford Blues," Allison in "The Breakfast Club," Leslie in "St. Elmo's Fire," Annie in "Blue City" and Connie in "Betsy's Wedding."
Sheedy continued acting after her success in the 1980s, most recently appearing in Freeform's "Single Drunk Female," playing the mother of a young girl who is struggling with maintaining her sobriety, and also appeared in the 2023 movie "Chantilly Bridge." The actress has since become a professor at City College of New York where she teaches an acting class.
'BREAKFAST CLUB' STAR ALLY SHEEDY SAYS HER STUDENTS GOOGLE HER: 'I'M TELLING THEM EVERYTHING I WISH I KNEW'
"Some of them Google me, or they have a great filmography in their head and they've seen what I've done," Sheedy told People magazine in 2022 of her students. "I'm very open to talking about my experiences. And I have an affinity for them so much because they are the age I was when I was working. I'm telling them everything I wish I knew."
While on the "Behind the Velvet Rope Podcast," Sheedy called being considered part of the Brat Pack "awful," saying she could feel things around her change after "such a flippant title" was placed on them.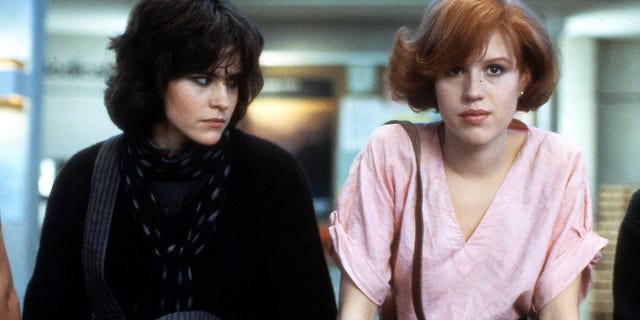 "The Breakfast Club," starring Molly Ringwald, Ally Sheedy, Judd Nelson, Emilio Estevez and Anthony Michael Hall, is considered a Brat Pack movie. (Universal Pictures / Getty Images)
"I could feel there was this weird energy going. I could feel sort of this tide turning against the group of us, as in, too famous too fast, too much too fast, something," Sheedy said. "I could just sort of feel it in the air, and then there was a lot less hanging out of this particular group that would go on. I felt like everything had been fun and joyful, and suddenly everything got very stressful overnight."
She elaborated on her negative feelings toward the nickname, saying it definitely "made things a little difficult" when it came to furthering her career past the traditional teenage roles.
"After 'The Breakfast Club,' I got to do a whole bunch of things," she told Fox News Digital in 2016. "Then there was a period of time 'the Brat Pack' thing became a backlash. It felt derogatory — these kids had too much too quickly. There was a dip in my career. When you're working this long, things go in cycles. I wanted to become Debra Winger. I kept thinking how was I going to make the shift to adult roles now that we've been [through] this thing called 'the Brat Pack,' which basically means young and bratty."
Sheedy appeared on the "Today Show" Thursday, where they played an old interview of the actress on the morning talk show.
"Since making the movie ["The Breakfast Club"], some of us have really gotten to be very, very close," Sheedy said in the throwback clip. "It's hard because there is a lot of time spent apart, but I think it's one of the greatest things about filming the movie, is I got to be very close to the other people."
During her appearance Thursday, Sheedy said that is still true, and she and Molly Ringwald are still very close friends.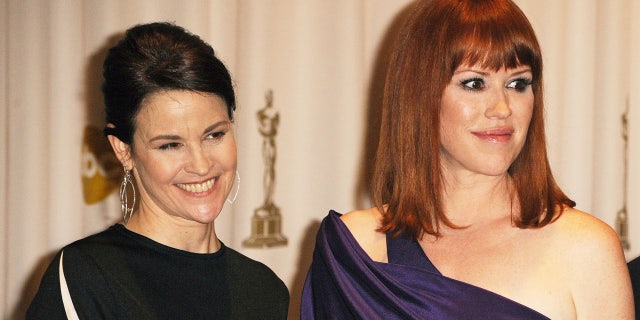 Sheedy and Molly Ringwald have remained close friends since starring together on "The Breakfast Club" in 1985. (Photo by Jeff Kravitz/FilmMagic)
"It was overwhelming. We didn't know that movie was going to become such a big thing, and nobody had any idea, and then it did," Sheedy admitted. "I can see on there that I was overwhelmed."
Emilio Estevez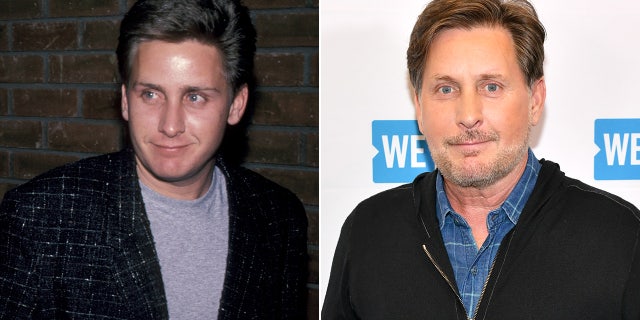 Emilio Estevez starred in several Brat Pack movies, including "The Outsiders," "The Breakfast Club" and "Wisdom." (Getty Images)
Emilio Estevez has never been a fan of the Brat Pack moniker and has yet to come around to it as an adult.
"That (term) will be on my tombstone," Estevez told The Guardian in January 2020. "It's annoying because Brad Pitt, George Clooney and Matt Damon have worked together more than any of us have. We just made two movies, and somehow it morphed into something else."
While he may not be super fond of the term, the actor undoubtedly is a well-established member of the group, having appeared in four movies considered Brat Pack films, including "The Outsiders," in which he played Keith, "The Breakfast Club," in which he played Andrew, "St. Elmo's Fire," in which he played Kirby, and "Wisdom," in which he played John.
During that time, Estevez fell in love with fellow Brat Packer Demi Moore, having first starred together in "St. Elmo's Fire." The two were together for close to three years, even getting engaged before ending their relationship just prior to their planned December 1986 wedding.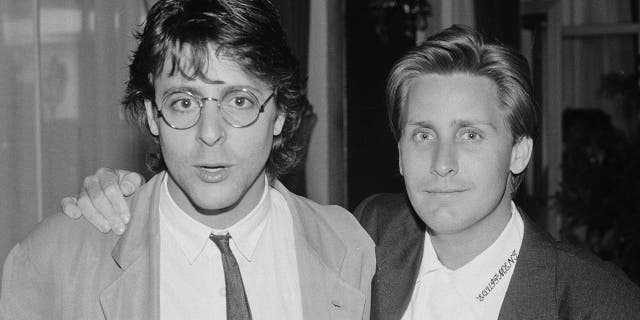 Judd Nelson, left, and Emilio Estevez (Richard Blanshard/Getty Images)
In addition to acting, Estevez has dipped his toes into the world of writing, directing and producing. He wrote "Bobby" in 2006, which reunited him with some of his Brat Pack co-stars, as well as "The Way" and "The Public," which he also starred in and directed.
Outside the Brat Pack, Estevez was known for playing Coach Gordon Bombay in "The Mighty Ducks" in 1992 and its two sequels in the '90s. He returned to the role in 2021 for the Disney + reboot series, "The Mighty Ducks: Game Changers," however, he only stayed on for one season, announcing his decision to leave the role ahead of its second season.
Judd Nelson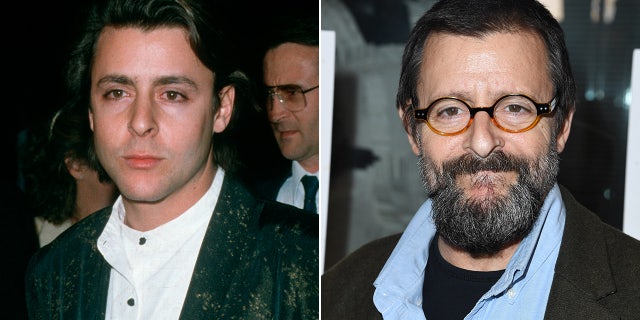 Judd Nelson has never come around to the term Brat Pack. (Getty Images)
Similar to Estevez, Judd Nelson hasn't really come around to the nickname given to him and his co-stars 40 years ago.
"These were people I worked with, who I really liked as people — funny, smart, committed to the work. I mean, no one was professionally irresponsible," Nelson told The Hollywood Reporter in October 2015. "And after that article, not only are we strongly encouraged not to work with each other again — and for the most part we haven't — but it was insinuated we might not want to be hanging out with these people. And it was like, I didn't know that good friends are so easy to come by in this world that they should be tossed asunder."
Years later, Nelson also said that the insinuation they hung out all the time and were the best of friends wasn't necessarily the case.
"If someone writes an article on a group of people that are working together on a movie, they draw the conclusion that they are the best of friends and that they hang out all the time," Nelson told The Jewish Chronicle in September 2022. "That's not true. I lived in New York at the time and I didn't travel 3,000 miles to have a beer. I was working with those actors. That's why I was having dinner with them."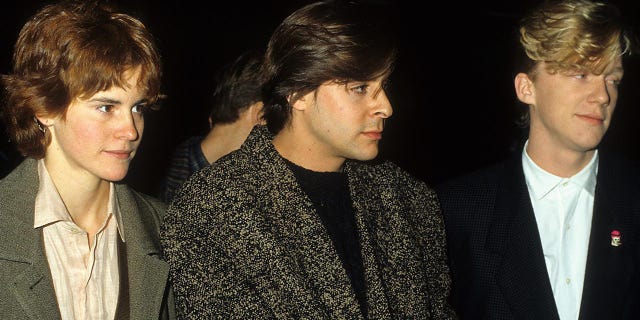 Members of the Brat Pack said it was all an illusion and that they didn't really hang out too much when not on set. (Donaldson Collection/Michael Ochs Archives/Getty Images)
Nelson has continued to act steadily since his days as a Brat Packer, appearing in a number of movies and TV shows throughout the years. Most recently, Nelson appeared in a "A Tale of Two Guns," "The Most Dangerous Game" and "Save Christmas," all in 2022. Prior to that, he appeared in "Unknown," "Girl In The Basement," "Iceland Is Best" and "Electric Jesus."
Molly Ringwald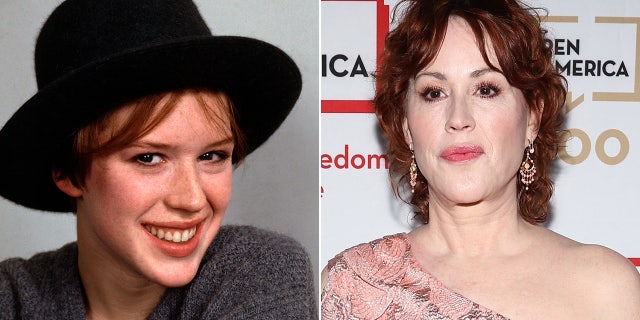 Molly Ringwald was considered to be John Hughes' muse having starred in three of his movies in quick succession. (Getty Images)
Molly Ringwald was considered to be director John Hughes' muse back in the '80s, starring in three of his biggest hits, playing Samantha in "Sixteen Candles," Claire, also known as the Princess, in "The Breakfast Club," and Andie in "Pretty In Pink," all of which are considered Brat Pack movies.
She also starred as Jewel in "Fresh Horses" and Betsy in "Betsy's Wedding."
MOLLY RINGWALD SAYS HER HIT FILM 'THE BREAKFAST CLUB' IS 'TROUBLING' IN #METOO ERA
From 2008 to 2013, Ringwald starred as Shailene Woodley's mom in Freeform's "The Secret Life of An American Teenager." Following that role, she appeared in Netflix's "The Kissing Booth" and its two sequels.
The actress most recently starred in "Riverdale," "Monster: The Jeffrey Dahmer Story" and the upcoming season of Ryan Murphy's "Feud."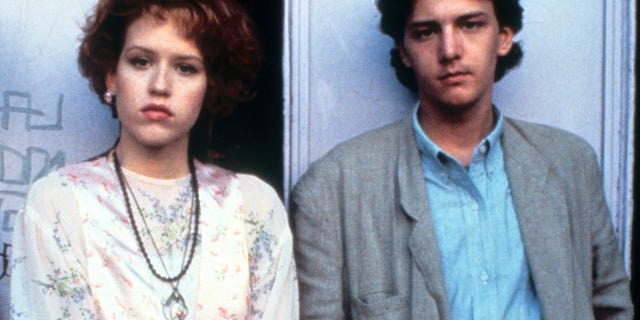 Jon Cryer, Molly Ringwald and Andrew McCarthy on set of "Pretty In Pink" 1986. (Paramount / Getty Images)
In a 2016 interview with Fox News Digital, Ringwald admitted she wasn't a big fan of being called the Brat Pack, saying "it didn't feel like a positive or fair moniker for sure. I found it objectifying."
 
 

 
 
View this post on Instagram
 

 
 
 

 
 

 
 
 

 
 

One of the issues she had with being called a Brat Packer was they were always being lumped together and looked at as a unit.
"Everybody who was in those movies became a Brat Pack member," Ringwald said on "Late Night with Conan O'Brien" in 1994. "We did a couple movies together, but I didn't really hang out with a lot of those people, just because I was younger at the time. I mean, when I did 'Breakfast Club,' I was 15, 16 years old, and they were already in their 20s. . . . I was quite a bit younger, so when they were going out drinking and doing crazy stuff, I was going to school."
Demi Moore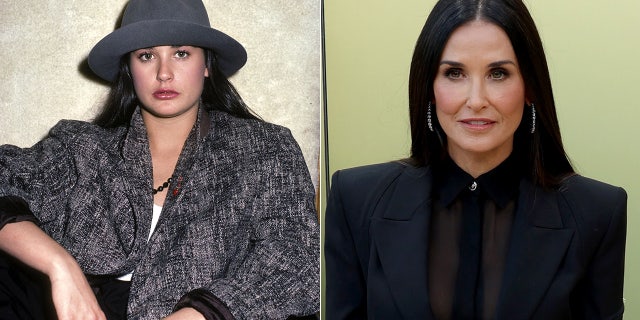 Demi Moore starred in three Brat Pack movies, her first being "St. Elmo's Fire." (Getty Images)
Demi Moore hasn't said too much about her time in the Brat Pack, aside from writing about her relationship with Estevez.
"I liked all my costars and remained close to some of them today, but the person who stands out from this period is, of course, Emilio," Moore wrote in her 2019 memoir, "Inside Out," about filming "St. Elmo's Fire."
She once told the Orlando Sentinel that other members of the Brat Pack would poke fun at their relationship, especially when she was filming "About Last Night…" in which she had love scenes with Rob Lowe.
According to Moore, "Rob would call up Emilio and say, 'Hey, guess what I did all day? I spent the entire day in bed with Demi. Ha-ha'" she told the Sentinel.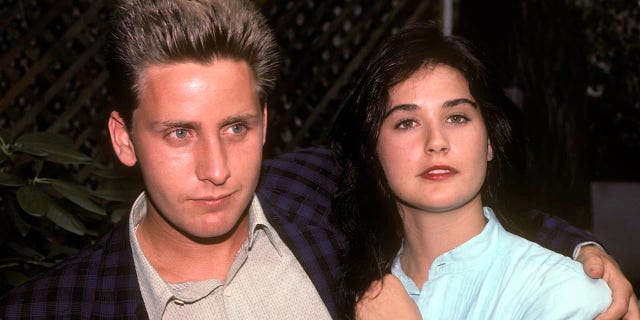 Demi Moore and Emilio Estevez were together for nearly three years before calling off their engagement in 1986. (Vinnie Zuffante / Getty Images)
In addition to starring alongside Estevez in "St. Elmo's Fire" as Julianna and "About Last Night…" as Debbie, Moore appeared in "Wisdom," in which she played Karen.
Most recently, Moore has starred in the movies, "Please Baby Please" and "The Incredible Weight of Massive Talent," alongside Nicolas Cage, and is set to make an appearance on an episode of Ryan Murphy's anthology series "Feud."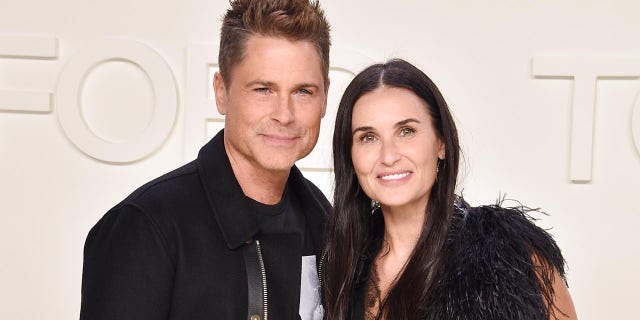 Lowe and Moore co-starred in "About Last Night…" (David Crotty / Patrick McMullan via Getty Images)
Andrew McCarthy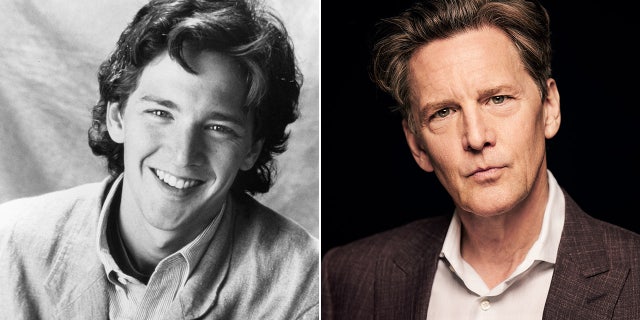 Andrew McCarthy was not prepared for the instant fame that came with being in the Brat Pack. (Getty Images)
Andrew McCarthy says the fame came on "suddenly" as a member of the Brat Pack and definitely took some time getting used to.
"I was a very shy person, and suddenly I was very in the public and present, and people were coming up to me and stuff like that … all kind of weird and bizarre," McCarthy told Drew Barrymore on her talk show in 2021. "It was such an odd singular time, and it happened to a small group of people, and it so effected our lives so thoroughly … it totally alters who you become as a human."
The actor admittedly "avoided the Brat Pack for a long time," saying that he and some of the other actors in the group viewed the term as "a very negative and very pejorative kind of term," which they thought was "cast in judgment." Only through writing his memoir, "Brat: An 80s Story," did McCarthy learn how important he and the other actors had been to audiences.
"I went back and tried to reconcile how [the Brat Pack label] is pejorative on one hand and a blessing on the other. It's weird — whatever you were doing at 22, would you want that to be your legacy? It will be mine, to a generation of people," McCarthy told the New Yorker in May 2021.
"I'm an avatar of their youth, and, in a way, that's a beautiful thing. It's about people looking at their youth, when their whole life was a blank canvas — that excitement and that terror. And we were the people that that was projected on."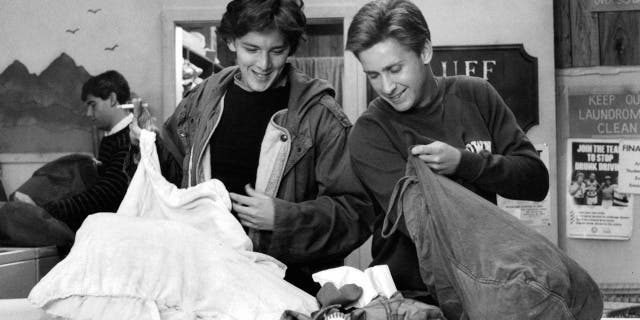 McCarthy wrote a memoir about his time as a member of the Brat Pack and how it affected his life, called "Brat: An 80's Story." (Michael Ochs Archives / Getty Images)
McCarthy appeared in a number of Brat Pack movies, including when he played Jonathan in "Class," Kevin in "St. Elmo's Fire," Blane in "Pretty in Pink" and Matt in "Fresh Horses."
The actor has gone on to star in hit shows like "Good Girls" and "The Resident," as well as in the movies "Isle of Hope" and "Grace Point."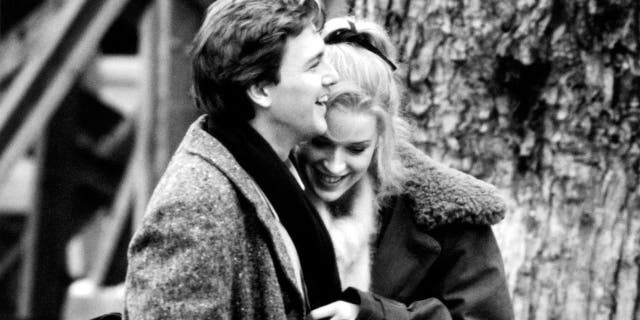 Andrew McCarthy and Molly Ringwald reunited in the 1988 movie "Fresh Horses." (Michael Ochs Archives / Getty Images)
CLICK HERE TO SIGN UP FOR THE ENTERTAINMENT NEWSLETTER
 
 

 
 
View this post on Instagram
 

 
 
 

 
 

 
 
 

 
 

Following the success of his book, McCarthy is turning the memoir into a documentary in which he will speak with other members of the Brat Pack.
"This is a personal journey of discovery," McCarthy told Deadline in 2021. "It's been pulling at me for years. I need to know if the other members of the Brat Pack have felt like I've felt or if they've had a different experience entirely."
CLICK HERE TO GET THE FOX NEWS APP
So far, McCarthy has spoken to Estevez, posting about their meet-up on Instagram earlier this year. He revealed the two had not seen each other "in more than 30 years" and that it "felt like meeting a long-lost brother" when they saw each other.