A vintage vinyl album has made its way back to its home library more than 40 years past its due date.
The Toronto Public Library shared a tweet on April 6 showing the album cover and the original library card, with a due date of Oct. 5, 1982.
The album made its way back to the Spadina Road Branch in Toronto, Ontario.
NEW JERSEY MAN RETURNS BORROWED BOOK TO HIS PUBLIC LIBRARY 75 YEARS LATE
The music album, "Tanzmusik der Praetorius-Zeit: Dance Music from the Time of Praetorius," by Fritz Neumeyer, was released in Hamburg, Germany in the 1960s, according to an Ebay auction that was selling the same album.
The classical 12-inch LP was released by the record label Archiv Produktion, as seen on Ebay.
"Good thing we eliminated late fines last year," the library staff wrote on Twitter.
"I wonder how much it would have cost in late fees?" one user commented.
KIRK CAMERON DRAWS 2,500 PEOPLE AT INDIANAPOLIS PUBLIC LIBRARY FOR CHILDREN'S BOOK READING
"But [the] penalty if that card was missing is 25 cents. Priceless," another person shared.
Better late than never! Due on October 5, 1982, this album finally made its way home to Spadina Road Branch after nearly 40 years. Good thing we eliminated late fines last year. 😉 pic.twitter.com/Lqj0K46vo2

— Toronto Public Library (@torontolibrary) April 6, 2023
On March 31, 2022, the Toronto Public Library eliminated late fees in the hope of "removing a barrier to access and making the library more welcoming to all," the library shared in a press release.
"When customers have fines, they are less likely to use the library and take advantage of the wide variety of materials and services, including free wifi, quiet study and workspace, programs for all ages and opportunities for civic engagement and participation."
OREGON LIBRARY RECEIVES OVERDUE BOOK RETURNED DECADES AFTER IT WAS CHECKED OUT
While the library has done away with late fees, those who have lost or damaged an item — or who do not return an item — are still required to pay for its replacement cost.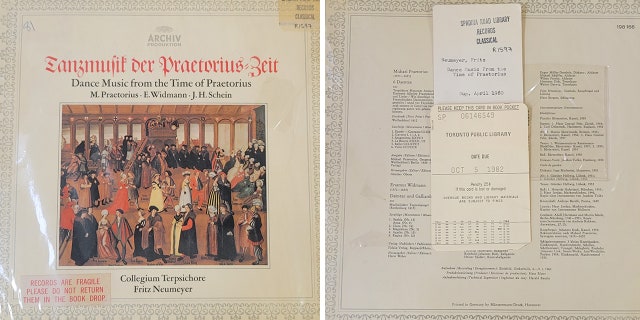 The library eliminated late fees last year — so no one will be charged with an abundance of late fees for this vastly overdue item.  (Toronto Public Library)
The library claims that fines actually "create a barrier" for those who hope to use the different services at the library.
CLICK HERE TO SIGN UP FOR OUR LIFESTYLE NEWSLETTER
"Fines were originally introduced to encourage customers to return materials on time, but increasingly have been found by libraries across North America to be ineffective in encouraging the return of library materials as intended," the Toronto Public Library said in its media release.
CLICK HERE TO GET THE FOX NEWS APP
Fox News Digital reached out the Toronto Public Library for comment.