Artificial intelligence is under a worldwide spotlight amid the proliferation of high-tech chatbots that can mimic human conversations. But long before ChatGPT hit the market, the space exploration industry integrated AI into research to help map the universe and allow scientists to better unravel the secrets of deep space.
More than 50 years ago, the classic movie "2001: A Space Odyssey" featured a sentient AI computer named HAL 9000 and quickly became one of the most iconic sci-fi thrillers in the world. Since Hollywood released the film in 1968, reports show that real-life scientists working with high-tech artificial intelligence has become commonplace in the space exploration industry – and without the terrifying results that played out in the big-screen thriller.
Space agencies across the world, including NASA and the European Space Agency, have been using AI technology to chart galaxies and stars and send robots to other planets. And experts anticipate the technological leaps will continue.
Such agencies often rely on machine learning (ML) technology for the efforts, which allows programs to take in vast amounts of data and train themselves to find patterns and make predictions, according to MIT's explanation on ML.
"As machine learning advances, its scientific applications will expand to more and more missions. For the future, this may mean that deep space missions – which travel to places where calibration rocket flights aren't possible – can still be calibrated and continue giving accurate data, even when getting out to greater and greater distances from Earth or any stars," NASA said in a blog post in 2021 on machine learning tech and how scientists study the sun.
NASA AI MODEL COULD HELP WORLD PREPARE FOR IMPACT OF SOLAR STORMS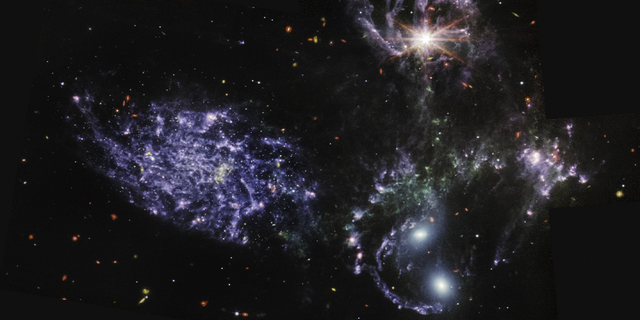 This image released by NASA on July 12, 2022, shows Stephan's Quintet, a collection of five galaxies, as seen via the James Webb Space Telescope. (Getty Images)
AI has the ability to comb through seemingly endless data on space and prioritize the most important data sets for researchers, thus eliminating human error.
For decades, NASA has sent rovers to faraway celestial bodies, such as the Mars Pathfinder mission that sent a rover to the planet in 1997.
"Our return to Mars today marks the beginning of a new era in the nation's space exploration program," then-President Bill Clinton said of the historic 1997 landing of the rover. "The Mars Pathfinder is the first of a series of probes we are sending to Mars over the next decade. The information we gather on our neighbor planet will help us better understand our own world and perhaps provide further clues on the origins of our solar system."
Nearly 30 years later, the space agency has continued sending various robots to the planet, including the input of machine learning algorithms that allow the technology to autonomously travel without the threat of falling into craters.
ARTIFICIAL INTELLIGENCE 'GODFATHER' ON AI POSSIBLY WIPING OUT HUMANITY: 'IT'S NOT INCONCEIVABLE'
The technology has already proved to be fruitful, with NASA's Curiosity rover this year capturing a photo this year of rippled rock textures, indicating Mars likely once had water.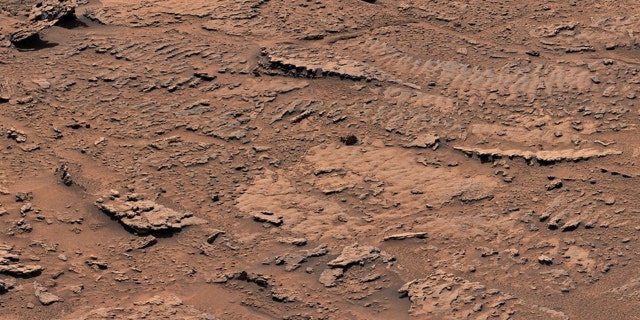 Billions of years ago, waves on the surface of a shallow lake stirred up sediment at the lake bottom. Over time, the sediment formed into rocks with rippled textures that are the clearest evidence of waves and water that NASA's Curiosity Mars rover has ever found. (NASA / JPL-Caltech / MSSS)
"This is the best evidence of water and waves that we've seen in the entire mission," Ashwin Vasavada, Curiosity's project scientist at NASA's Jet Propulsion Laboratory, said in a NASA post on the discovery in February. "We climbed through thousands of feet of lake deposits and never saw evidence like this – and now we found it in a place we expected to be dry."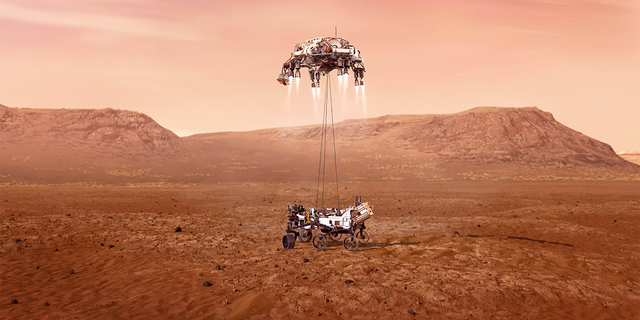 This image made available by NASA shows an illustration of NASA's Perseverance rover landing safely on Mars. (Getty Images)
AI also helps the industry with the physical mechanics of launching spaceships. Elon Musk's SpaceX corporation uses an AI autopilot system on its Falcon 9 drone ships, allowing the spacecraft to launch or dock autonomously, Forbes reported.
MICROSOFT IMPOSES LIMITS ON BING CHATBOT AFTER MULTIPLE INCIDENTS OF INAPPROPRIATE BEHAVIOR
According to AI Magazine, artificial intelligence is also aiding researchers trying to clean up and avoid space's trash problem. There are an estimated 330 million pieces of space debris orbiting Earth, including old satellites and parts of ships. Scientists at the European Space Agency, for example, are training AI to avoid crashing into space debris, according to the magazine, while also working on a long-term plan to help get rid of the space junk.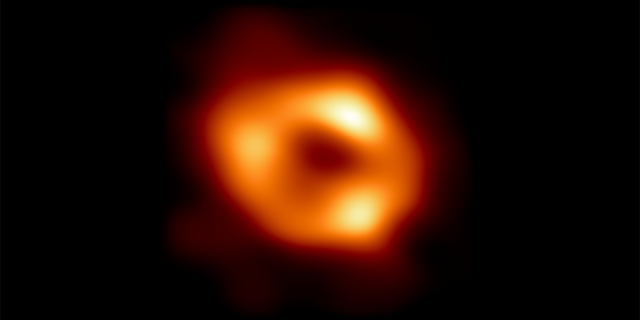 In this handout photo provided by NASA, this is the first image of Sgr A*, the supermassive black hole at the center of our galaxy. It's the first direct visual evidence of the presence of this black hole. (Getty Images)
CURIOSITY MARS ROVER FINDS THE 'BEST EVIDENCE' OF ANCIENT WATER IN RIPPLED ROCKS
Controversy over AI technology gained international attention in March when thousands of tech experts, leaders and others signed an open letter calling for a six-month pause on creating powerful AI systems. Musk and Apple co-founder Steve Wozniak were among the prominent signatories who warned that "human-competitive intelligence can pose profound risks to society and humanity."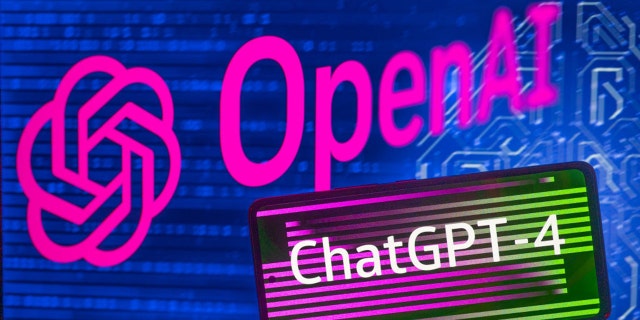 ChatGPT-4 is displayed on a smartphone with the OpenAI logo. (Jonathan Raa / NurPhoto via Getty Images)
One of the world's leading AI labs, OpenAI, released a chatbot last November called ChatGPT, which broke records as the fastest-growing user base with 100 million monthly active users in January. OpenAI released its latest iteration, GPT-4, last month. The bot is able to simulate human-like conversations with users based on prompts it is given.
Proponents of the AI tech argue that human life could be enhanced as the tech grows more powerful, with studies finding AI-led automation could cause productivity and economic booms that increase a country's GDP, aiding financial industries with quick fraud detection, and even spotting a cancer diagnosis.
CLICK HERE TO GET THE FOX NEWS APP
OpenAI CEO Sam Altman said earlier this year that he understands concerns about the tech but hopes "that we successively develop more and more powerful systems that we can all use in different ways that integrate it into our daily lives, into the economy, and become an amplifier of human will."