A search for stranded sea turtles has led one couple to find a few washed-up messages in bottles on a Texas beach.
Jace and Kathryn Tunnell, of Corpus Christi, Texas, found three messages in bottles last week while they surveyed wildlife on behalf of the Mission-Aransas National Estuarine Research Reserve, which is associated with The University of Texas at Austin's Marine Science Institute.
Jace Tunnell, director of the research reserve, shared with Fox News Digital that the bottles were found on Matagorda Island, an eight-mile-long barrier island on the Texas Gulf coast in Calhoun County.
ALLIGATOR SPOTTED ON TEXAS BEACH BY SEA TURTLE PATROLLERS: 'CAUGHT BY SURPRISE'
Two of the bottles contained letters that were reportedly sent out by visitors of Jamaica, as shown in a Facebook post shared by the Mission-Aransas Reserve on Tuesday, April 4.
One letter writer, Madi Whalen, a high school graduate from Kansas City, Missouri, wrote her message from the Grand Palladium Resort & Spa in Point Lucea, Jamaica, on June 13, 2022.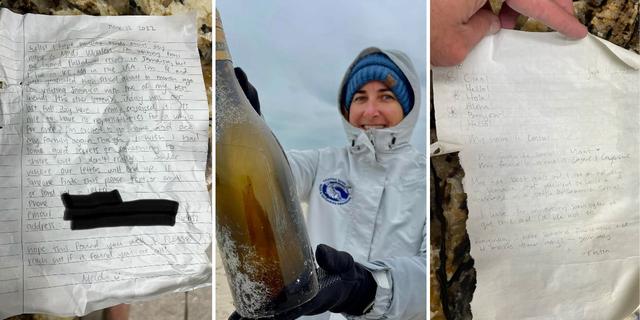 Jace and Kathryn Tunnell found two messages in bottles that were reportedly sent out by visitors of Jamaica. The pair found the messages washed up on Matagorda Island while they conducted a survey on the Texas beach. Kathryn Tunnell (center) held up bottles for her husband, Jace, to photograph. (Jace Tunnell/Mission-Aransas Reserve)
"Today was our last full day here. I really enjoyed it," Whale wrote in her letter.
"It's nice to have no responsibilities for a while for once. I'm excited to go home and see my family again, though."
TEXAS MAN REUNITED WITH 27-YEAR-OLD MESSAGE IN A BOTTLE HE WROTE AS A CHILD
The second letter in a bottle was also sent out by a high school graduate who was on vacation in Jamaica back in June 2022.
The sender, Easton (no surname provided), noted that a favorite band is Morat, a Columbian boy band, and that a favorite movie is "Dazed and Confused," an American coming-of-age comedy film from 1993.
"My two best gals and I are on holiday in Jamaica and decided to leave a message in a bottle for someone special. I leave for university soon after we get back and I'd like not to," Easton wrote on June 11, 2022. "Anyway, I hope someone finds this and it makes their day!"
MESSAGE IN A BOTTLE FROM RHODE ISLAND FOUND IN PORTUGAL
The third message in a bottle the Tunnells found was shared by the Mission-Aransas Reserve Facebook page on Friday, April 7.
Half of the letter has faded, so an exact date and name can't be determined; but the sender might reside in, or has visited, Galveston Island, a barrier island on the Texas Gulf Coast.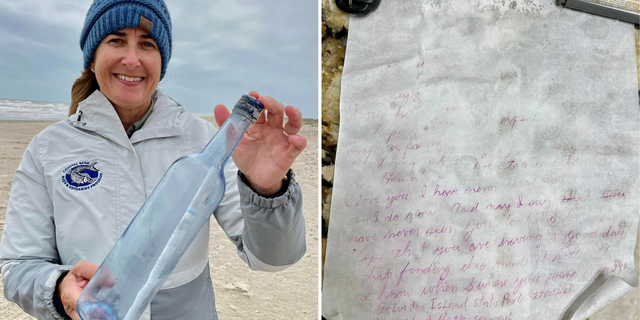 One of the messages in bottles the Tunnells found on Matagorda Island was written with a red or pink pen, and it was enclosed in a clear bottle. The combination led to the letter's fading quickly, according to Mission-Aransas Reserve. The research center noted that letters written with pencil that are enclosed in dark bottles tend to last longer. (Jace Tunnell/Mission-Aransas Reserve)
Jace Tunnell said he and his wife found the messages in bottles while they were conducting beach surveys looking for stranded sea turtles on Matagorda Island, which is about 133 miles southwest of Galveston Island.
The pair conducts weekly beach surveys for stranded sea turtles and keeps count of endangered bird species.
Conducting these surveys reportedly has helped the Tunnells find messages in bottles that have landed onshore.
FOLLOW US ON FACEBOOK FOR MORE FOX LIFESTYLE NEWS
"We've found over 20 messages in a bottle in the past five years of doing the survey," Tunnell wrote to Fox News Digital.
"A lady commented on [one of the photos] that her daughter was one of the people that wrote one of the letters but that she is not on Facebook," he continued.
"She said her daughter was excited that someone found it."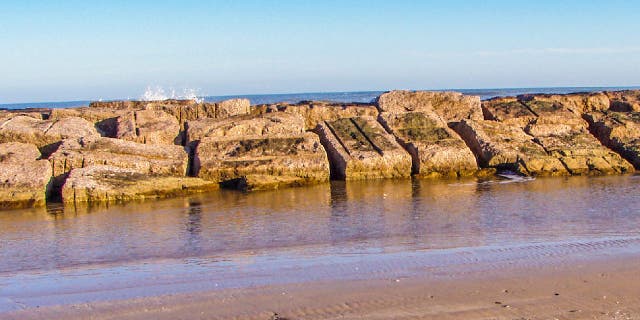 Matagorda Bay is an estuary on the Texas coast, located northeast of Corpus Christi between Calhoun County and Matagorda County. The bay is separated from the Gulf of Mexico by Matagorda Island. Sea turtles travel to the area to lay eggs. (iStock)
The University of Texas Marine Science Institute's Mission-Aransas National Estuarine Research Reserve beach surveys are funded by grants and are done to help sea turtle populations recover in the Lone Star State.
Tunnell wrote that the Mission-Aransas Reserve releases a weekly vlog that goes over the items that have washed up on Texas beaches on YouTube, which is published on the MissionAransasNERR account.
CLICK HERE TO GET THE FOX NEWS APP
The YouTube series helps the research center "educate folks about how the ocean works, the mysteries of the ocean, and how we can help protect it," according to Jace Tunnell.