FIRST ON FOX: One hundred and thirty-one manufacturing organizations penned a letter to the White House pleading with President Biden's administration to curb the overwhelming amount of federal regulations costing manufacturing companies thousands at levels unseen from any prior administrations, the largest U.S. manufacturing association head told Fox News.
"We've never seen this level before in any administration," President and CEO of the National Association of Manufacturers Jay Timmons said. "We want to call attention to the barrage of regulations that manufacturers are facing right now."
OVER 100 MANUFACTURERS' SEND A LETTER TO THE WHITE HOUSE TO STOP THE 'REGULATORY ONSLAUGHT'. WATCH: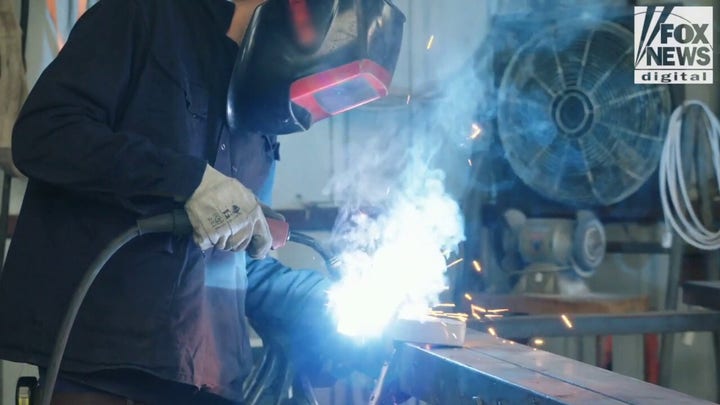 Video
WATCH MORE FOX NEWS DIGITAL ORIGINALS HERE
The National Association of Manufacturers, representing small and large manufacturers in all 50 states, launched the Manufacturers for Sensible Regulations coalition on Thursday to address the "onslaught" of federal regulations negatively impacting the industry. Members of the coalition sent a letter to Biden's Chief of Staff Jeff Zients to express their concerns, and request the White House designate a senior-level advisor to work with agencies and manufacturers to ensure achievable regulatory practices moving forward.
Timmons told Fox News NAM has been monitoring and engaging in the regulatory process across 30 agencies.
"It's really the volume and the number that are challenging. We're not saying don't regulate," Timmons said. "But sometimes we are seeing regulatory agencies kind of reaching for the stars and for something that may sound really great in a press release, but is simply not achievable."
AI AND MACHINE LEARNING MAY SPEED DRUG DEVELOPMENT, MANUFACTURING: FDA
"What we're seeing is we're seeing a lot of small manufacturers say, 'we just can't do this anymore, we can't make this particular product that is so essential for the supply chain,'" he said. "Or in some cases we see them say 'we're going to just pack it up, or even we're going to let others in China or other countries around the world make these products because we simply can't do it anymore.'"
BIDEN ADMIN TAKES AIM AT HUNTERS IN LATEST REGULATION: 'PREVENTING AMERICANS FROM HUNTING'
Despite these challenges, Timmons praised some of the Biden administration's legislation directed at growing the manufacturing industry, including the 2022 Chips and Science Act which boosted funding for semiconductor manufacturing and research. He also said Biden added key energy provisions in the Inflation Reduction Act and initial permitting reforms in the Fiscal Responsibility Act that helped the manufacturing industry.
"Businesses need to be at the table when some of these decisions are being made, so we can simply provide pragmatic solutions," he said. "If you had that kind of coordination, that would better help to bring the whole government together … for the same objectives."
"I think this is a message that is coming across loudly and clearly," to the Biden administration, Timmons said. "Keep doing the good things to advance manufacturing, but make sure that the entire government is focused on the same agenda."
To watch Timmons' full interview click here.